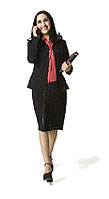 Anzus Finance Corporation offers a wide range of loans for the business owner who does not have overly strong or up to date financial information.
We have a number of products to assist you into your new vehicle, even if you have poor tax returns or even no financial information. In fact we can get you up $35,000 with absolutely no paper work providing you have an ABN and a clear credit history.

These loans can be used for virtually any business purpose. We offer a wide range of attractive terms that are sure to suit your needs.

One of our experienced consultants will be happy to listen to your needs and tailor a loan to suit you.
Terms and conditions apply.